Get to Know Who's Visiting Your Website,
Where Your Website Visitors Came From,
and What Your Visitors Do When They Get To Your Website!
I often ask clients if they track their website visitor traffic, and they sometimes say "yes", their website hosting company collects data. But when I ask how often they actually review their website traffic data, few if any have ever looked at it. This is why I recommend using a ultra user-friendly tool like Web-Stat to make website tracking traffic easy, and actually fun!
Want to see a live example? Email me and I'll send you the login to look at my own website traffic in real-time via Web-Stat.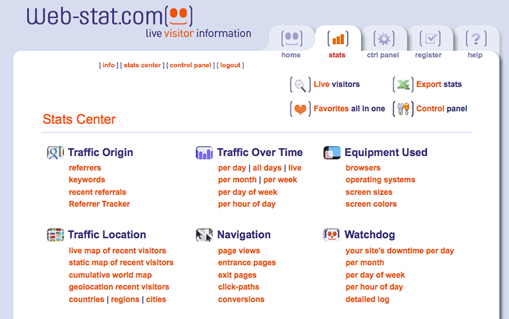 If you're subscribed to a Pay-Per-Click campaign or paying for a directory listing, it is really important that you have a way to measure your return on these investments - this is only possible with an independent website traffic tracking tool!
If you have an online store or shopping cart - you can track how many people add products to your cart and how many of them complete the checkout process, enabling you to calculate your shopping cart abandonment rate - a very important metric.
Websites do occasionally go down - Web-Stat automatically checks your website every 15 minutes and will send you an email if it can't connect to it...what more could you ask for?
---
How much does this website traffic tracking tool cost?
I recommend the premium website tracking package, which costs only $9.95 per month. Web-Stat even has a free 30 day trial period.
Web-Stat installs on your website in minutes - get to know your visitors today!

Aldebaran Web Design
206-629-4980
Hours: Mon-Fri 10am-5pm Pacific Standard Time
Jill@AldebaranWebDesign.com
23632 Hwy 99, Suite 119
Edmonds, WA 98026
Our Preferred Website Hosting Company:

Aldebaran Web Design is a proud member of The Greater Seattle
Business Association



Need A Logo?


Our Favorite Website Traffic Analysis Tool:
©2006 - © Aldebaran Web Design Seattle, A DBA of Aldebaran Services LLC