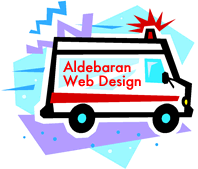 For those times where something critical on your website isn't working, Aldebaran Web Design offers emergency website design services.
It is very difficult to find a knowledgeable web designer who is willing to help solve your existing website issues, especially if your website was designed by someone else.
When an important aspect of your small business website is not functioning correctly and you need help ASAP, contact me, tell me your issue, and I'll let you know if I think I can help.
Some examples of website emergencies I've dealt with include:
Your web designer has abandoned you and you really need changes done ASAP.
Your current web designer is no longer able/willing to support your website and you need help moving your website to a new hosting company.
Your website contact form doesn't work.
Your website has disappeared from the web, but you have all of the files and need your website restored as soon as possible.
Your website designer has made a recent update and broken your site, and now the designer is unavailable to fix it.
You're a web designer who wants help solving a particularly challenging issue.
Emergency website consulting is billed at $150 per hour with a one hour minimum. Prepayment of first hour minimum is required. Due to the highly diverse nature of website-related technical issues, there is no guarantee that I'll be able to resolve your issue, but I'll certainly do my best. Website emergency service availability is dependent upon current workload conditions. (For clients who have had their websites designed by Aldebaran Web Design and need assistance, please see my maintenance page. )

©2006 - © Aldebaran Web Design Seattle, A DBA of Aldebaran Services LLC