When I started out in the web design business, I worked with some of the free online store applications like osCommerce and ZenCart. After being dissatisfied with the performance and ease-of-use of these applications, I went in search of a better ecommerce application. I wanted one that would be easier for both me, and for my clients, and for their customers to work with. I now only install and customize one online store application: eCommerce Templates (ECT). Below, you can read a testimonial from a client who made the switch from osCommerce to ECT and is very happy he did!
---
"With recommendation from Jill, we recently migrated from the osCommerce to eCommerce (ECT) website commerce application. The main reason I migrated because the osCommerce interface to manage customer sales and product interface is clumsy, non-intuitive, and slow. Jill recommended we move to eCommerce (ECT) based on my requests and we decided to do so."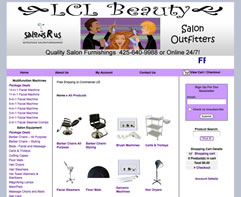 "I was expecting a lengthy process to re-enter all my several hundred files and datapoints relating to product information including item details and descriptions, product categories and pictures, shipping options and shopping cart settings. Boy was I wrong!"
"Jill was able to get all of my data migrated seamlessly from my old solution, to the new ECT eCommerce framework. This only took a few hours and was completely behind-the-scenes to me so all I had to do was go into the new ECT eCommerce site post-migration and verify everything looked right (it did!). Not only did it migrate all my product information, it even brought over the pictures, pricing, and even the category structures!"
Patrick Richardson, LCL Beauty
©2006 - © Aldebaran Web Design Seattle, A DBA of Aldebaran Services LLC